Testimonials
---
We are excited and absolutely thrilled to be living in our newly renovated home.
From the very start to finish, you have proven what a great choice we made by entrusting our renovations to you. Your expertise in updating traditional Queenslanders has resulted in a fantastic blend of old and new to give us a beautifully liveable extension. The attention to detail has been faultless, and your passion for the finished product shines through.
Having remained living in the house during the entire renovations, we must commend your team. Led by Dennis' amazing example, every one of your tradesmen showed respect and regard for our family being in the middle of the worksite. They made sure we were inconvenienced as little as possible which was appreciated.
So, as we sit on our beautiful new deck looking into a glorious sunset, we say thank you for your hard work and dedication. We absolutely recommend Urban Trend for your professionalism, attention to detail and outstanding building skills.
Amanda and Pete Mizen - Habana
---
Kath and Ken of Urban Trend, along with their great team of carpenters, have done a wonderful job of our verandah and 2 sets of very dilapidated, and unsafe stairs. Our 'old lady' has been restored into a 'grand old dame'. We would highly recommend Urban Trend for their quality of work, as well as their work ethic to anyone considering building or renovating.
Cathi and Grahame Youngberry - Mackay
---
I love my home, I love my home, I love my home!
After many months searching for a builder who would not only build on a sloping site but who would interpret my floor plan ideas, I had given up. I was totally over negative people telling me what I couldn't do and what others liked so I put the land up for sale. Fate stepped in and on my way out of the Mackay Home Show I passed the Urban Trend stand. Something made me double back and ask the important two questions. Do you build on sloping sites? Will you build to my floor plan? The answer to both was YES. And - Urban Trend were building on two sloping sites at that time I could feel my little dream home spring to life once more and an appointment was made.
Throughout the whole planning, design and building process I have been and remain impressed by the professionalism and attitude of the whole Urban Trend team. From using Skype for face to face consultation with the design engineer to the project management and building crew and Kathryn's realistic allowances and attention to detail for fixtures and fittings I have been happy. Ken's ability to visualise the outcome, enthusiasm and recurring answer to my ideas - "Yes we can do that" have made it a pleasure to watch what I had in my head become a reality. I would recommend anyone who is looking to undertake major renovations or build a new home to consider Ken Ogilvie of Urban Trend as their chosen builder and further, I invite anyone who wishes to have verbal confirmation from me to call me.
Maureen Bullock - Sarina Beach
---
We have had extensive experience with builders on various commercial projects over the last twenty years, and Ken Ogilvie as a Master Builder and his Business Manager, Kathryn have exceeded all of our expectations. In terms of administration of the contract their attention to detail has been excellent, and all of their financial dealings in arranging sub-contractors and outlining price variations have been totally transparent.
In terms of the building Ken is highly efficient in coordinating his sub-contracts. The quality of his construction work and attention to detail is outstanding. As his client he consults with us on a regular basis to see if we have any queries and is always willing to listen to our suggestions.
I would highly recommend Ken and Kathryn as honest and professional in all of their dealings, and they would inspire confidence in any client.
Richard Roper & Louise Hargreaves Directors ART2C Pty Ltd
---
I purchased land with the intent to build a custom designed home. I had previously been recommended the services of Urban Trend and made contact with Ken to discuss my upcoming project. I found Ken to be honest, reliable and his input and thoughts to be very helpful throughout the entire design process.
His years of experience have given him insights into what will actually work best for the lifestyle of the client. I was very impressed that he took the time to go through what my requirements were, as well as my lifestyle as this would impact on how the design would work, and we made changes accordingly.
Despite numerous hold ups with weather, Urban Trend finished my project on time and within the budget I had set no hidden costs! The building process was easy from start to finish, including the selection of the final fixtures and finishes. Kathryn was brilliant at helping me select the final finishes and fixtures to complement my design all of which I receive regular compliments from guests in my home!
I can wholeheartedly recommend the services of Urban Trend Construction to anyone wishing to employ the services of a professional building company. I had often been told that building would be one of the most stressful events in my life I can honestly say that my experience of working with Ken and Kathryn from Urban Trend was anything but stressful!
Julie Shannon - Reedy Creek
---
In October of 2012, my husband and I had started our renovation with Urban Trend. Our plan was to add a second storey onto our home which entailed the addition of a master suite, double ensuite and nursery. We also had contracted Urban Trend to renovate/remodel our downstairs bathroom, laundry and kitchen. This was the first time we had ever done a renovation so we were very reliant on the advice of Urban Trend to navigate us through the process from concept to completion. It was during this time we first met Kathryn Ogilvie who guided us through the processes required from our bank documentation, building requirements, any build variations, design choices and budgeting.
Kathryn's personality is such, that I - being the one to choose all fittings, electrical goods, lighting, flooring and colours - had confidence in my decisions. Kathryn put my mind at ease many times and was present for all appointments when choosing any products, colours or goods. She also kept me updated with my budget which in turn allowed me to add some additional upgrades to our home. Not once was the standard or quality ever compromised but with her knowledge of so many suppliers and products , we were able to take full advantage of some great prices. Kathryn spent many hours negotiating the very best price on each and every item which for obvious reasons - pleased us immensely. We were able to save money and reinvest it into our home by adding some additional work.
Because of Kathryn's experience - we were able to fulfill our dream of creating a second storey as well as adding a well styled renovation to our existing areas. Our home is absolutely stunning and has far exceeded our original expectations.
Lisa and Craig Cunnington - Andergrove
---
It is my pleasure to recommend Ken Ogilvie as a leader in the construction industry on the Gold Coast. Ken is a regular contributor at the Master Builders Association meetings and his insight into the future strategies of a healthy construction industry, set him apart. Ken has carved out a place in the industry as a builder, providing exceptional customer service and high quality finishes.
Mark Hands CEO Australian Industry Trade College
---
Urban Trend Construction is an authorised Garth Chapman builder. Prior to achieving this status, Garth Chapman and myself conducted considerable due diligence on their building and client management skills. Ken Ogilvie is an experienced carpenter/builder who has been trained in the old school method of construction.
Currently Urban Trend Construction has almost completed their first Garth Chapman Queenslander. The quality of the construction is excellent and the owner is very happy with works completed.
Ken and Kathryn Ogilvie, who run Urban Trend Construction are hard working, genuine and honest people. I would have no hesitation in recommending their services.
Stephen Havas Director Traditional Queenslanders SEQ Pty Ltd
---
We just wanted to say how much we have appreciated all of your assistance and support. You have taken a home we loved and made it better. It has been a pleasure dealing with both of you, Ken and Kathryn. We can't express enough our gratitude for your commitment, and the way have treated our home like to was your own.
Carl and Faye Bottomley - Regents Park
---
I have no hesitation in recommending Urban Trend Construction for small or large domestic projects. We recently decided to renovate and extend our home and my husband and I are completely satisfied with the quality of the work carried out by Urban Trend Construction, more than that, I also want to compliment you personally Ken, Kathryn, Scott and Matt - on your absolute professionalism.
From our initial meeting onsite, Ken demonstrated a genuine pride in the quality of his work and we felt immediately confident that he would deliver exactly what he promised. He took the time to thoroughly explain our options and offered valuable advice to enable us to enhance and take full advantage of our existing structure and the wonderful view which the original shape of the home was neglecting.Ken thoroughly explained the scheduling and building processes and courteously addressed all my questions.
I work from home and we continued to live on site during the building process so for me the fact that they were a pleasure to have on site with me daily was a bonus. Ken and his team showed tremendous dedication to their craft. Put simply, they took the time to do things right. Along the way, they managed to deliver everything that was expected - and more!
Di Parsons - Mudgeeraba
---
Four years ago we embarked on a major renovation of our new home. Unfortunately we chose the wrong builder who disappeared halfway through the job leaving us with a half demolished house and out of pocket. However this story has a happy ending. Ken and Kath from Urban Trend Construction were able to quickly get our renovation back on track and restore our faith in the building industry. Despite a few lost weeks when our initial builder disappeared our house renovation was still completed on time.
Ken and Kath integrate their building expertise and knowledge of the building game with some good old fashioned business principles resulting in high quality work carried out with professionalism and integrity. We highly recommend Urban Trend Construction to anyone who is considering building or renovating.
Peter and Fiona Frawley - Mermaid Waters
---
The four essential things you
MUST know before renovating.
LATEST NEWS
Sep 16 2011
Recently while visiting a new client I was introduced to a fantastic website packed full of de...
Jul 01 2011
Renovating your existing home is most likely the largest investment you will make in your life...
GALLERY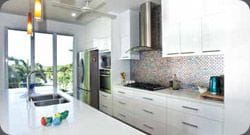 CONTACT US
Design & Selection Studio
1/69 Sydney Street
"Post Office Square"
Mackay QLD 4740
Call us on (07) 49 575 000
or 0408 737 438