Mackay's Railway Precinct
This newly renovated home in West Mackay is distinctly 'Ashgrovian' architecture. Ashgrovian houses were constructed in the 1920s and made mainly from wood and tin. This style of house generally features a large verandah and a gabled roof with large rooms. Our team loved this project's brief: restore the hertiage, while creating a modern livable family home.
The completed works include rear alfresco, new master suite with WIR and ensuite, new kitchen and study and children's wing including separate bathroom. The lower floor now includes a flood resistant laundry room.
The four essential things you
MUST know before renovating.
LATEST NEWS
Sep 16 2011
Recently while visiting a new client I was introduced to a fantastic website packed full of de...
Jul 01 2011
Renovating your existing home is most likely the largest investment you will make in your life...
GALLERY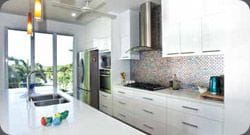 CONTACT US
Design & Selection Studio
1/69 Sydney Street
"Post Office Square"
Mackay QLD 4740
Call us on (07) 49 575 000
or 0408 737 438