Gorman
Gorman Street Second Storey Addition and Ground Floor Remodel
Often your family needs grow and change over time. This is the case for our Gorman Street clients. This second storey addition included a large rumpus/retreat with kitchenette, and guest bedroom with ensuite and master suite with WIR and ensuite. The ground floor is fully remodelled with new baths, laundry kitchen and refit to existing bedrooms. The ground floor now also features an oversized alfresco with outdoor kitchen.
The four essential things you
MUST know before renovating.
LATEST NEWS
Sep 16 2011
Recently while visiting a new client I was introduced to a fantastic website packed full of de...
Jul 01 2011
Renovating your existing home is most likely the largest investment you will make in your life...
GALLERY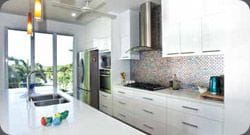 CONTACT US
Design & Selection Studio
1/69 Sydney Street
"Post Office Square"
Mackay QLD 4740
Call us on (07) 49 575 000
or 0408 737 438