Coral Ridge: Stage 2
The homeowner's brief was to provide additional garage space. This was achieved by building a semi-subterrean garage built into the block's natural slope. The roof of the garage structure creates an additional entertaining space and captures the magic sunsets over the western hinterland. Terraced walls featuring natural stone finish create a softening to the outdoor space. Internally, the existing garage was remodelled to create a dedicated wine cellar and gym. The rear of the property was further enhanced with mixed terracing of natural stone and timber decking.
The four essential things you
MUST know before renovating.
LATEST NEWS
Sep 16 2011
Recently while visiting a new client I was introduced to a fantastic website packed full of de...
Jul 01 2011
Renovating your existing home is most likely the largest investment you will make in your life...
GALLERY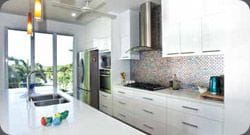 CONTACT US
Design & Selection Studio
1/69 Sydney Street
"Post Office Square"
Mackay QLD 4740
Call us on (07) 49 575 000
or 0408 737 438