Roy Court
Sometimes, clever changes to your existing floor space can create huge changes to your lifestyle. Reconfiguring the layout for this family created seamless transition from the dual alfresco areas, both east and west. Small changes to the lower floor created additional teenager's retreat. New kitchen and bathrooms completed this savvy alteration and addition.
The four essential things you
MUST know before renovating.
LATEST NEWS
Sep 16 2011
Recently while visiting a new client I was introduced to a fantastic website packed full of de...
Jul 01 2011
Renovating your existing home is most likely the largest investment you will make in your life...
GALLERY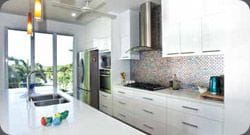 CONTACT US
Design & Selection Studio
1/69 Sydney Street
"Post Office Square"
Mackay QLD 4740
Call us on (07) 49 575 000
or 0408 737 438