Are you ready to renovate your existing home
Posted on 1 July 2011
Renovating your existing home is most likely the largest investment you will make in your lifetime. However, it never ceases to amaze me how many people walk away from the experience feeling less than satisfied. As with any investment it is imperative you think not only with your heart but also your head. The most common complaints can be minimised by following my simple tips.
1. Check your prospective building company is financially secure
Check their full details on the QBCC website. Complete a company name search using the ASIC website. Ask your prospective building company for the director/s full names and DOB and you can also for a small fee complete a historical name search using any of the ASIC recommended companies.
2. Make sure your builder is a renovation specialist
Ask your prospective building company if they specialise in renovations. Most builders are licensed to perform renovations, but very few specialise in the renovation field. New home building is a very different skill set to building new homes.
3. Discuss cost structure at the start of your relationship
Minimise the possibility of you project costs escalating by asking at your initial meetings what will be the percentage builder's margin on variations. If you decide to make changes to your plans after your contract is signed you may find you are paying a significant percentage margin above the cost price to your builder. An acceptable margin is usually 20%.
4. Be wary of contracts with extensive use of provisional sum allowances
Be informed as to your responsibilities if you sign a contact with provisional sums. The intention of a provisional sum is to cover the expected cost of a particular item e.g. cabinetry. However, should the allowance be insufficient you will have to pay the extra amount, plus the builder's margin on the extra amount. It is always better to get a fixed price for all work.
5. The internet can be a valuable tool
The interest can provide you with a wealth of information. Does your prospective builder have a Facebook page, with past projects to view? Does your prospective builder have a website, with numerous past client testimonials.
The four essential things you
MUST know before renovating.
LATEST NEWS
Sep 16 2011
Recently while visiting a new client I was introduced to a fantastic website packed full of de...
Jul 01 2011
Renovating your existing home is most likely the largest investment you will make in your life...
GALLERY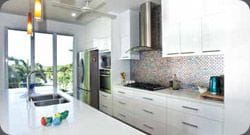 CONTACT US
Design & Selection Studio
1/69 Sydney Street
"Post Office Square"
Mackay QLD 4740
Call us on (07) 49 575 000
or 0408 737 438